Main content starts here, tab to start navigating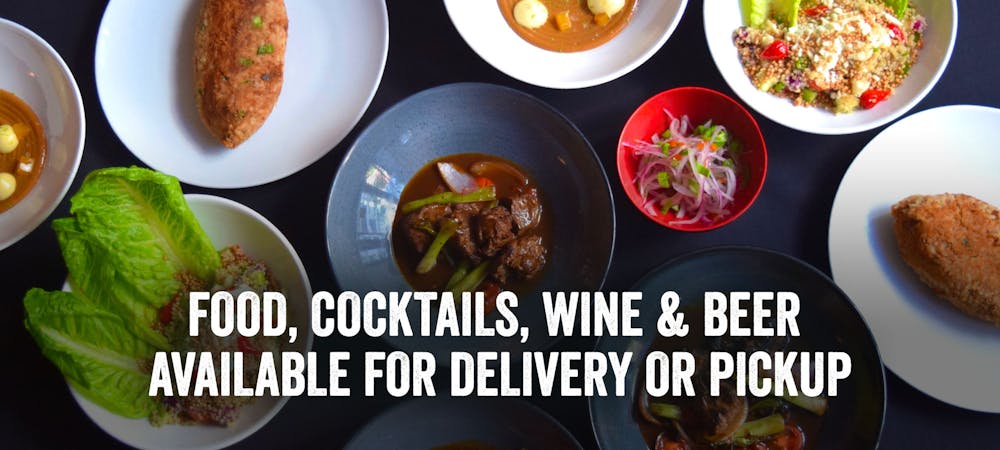 There is nothing we love more than preparing nourishing, comforting food for our guests. And, now more than ever in these challenging times, we want to continue feeding you and your families as best we can. Head Chef Carlo Delgado has curated all of your favorite dishes to celebrate Criollo and Chifa cuisines, including larger family-style packages to share. Available daily from 12 – 8 PM Sunday – Thursday and 12 – 9 PM Friday & Saturday.
View Food Menu | View Beverage Menu

FOOD MENU
Allergens: These items may include unlisted ingredients and/or be prepared on equipment that processes allergens. Take precautions if you have an allergy.
Feasts
Chifa for 2

Soy roasted half chicken served with chicken lettuce wraps, vegetable chow mein noodles, vegetable fried rice and Suspiro Limeña dessert to share

$45

Chifa for 4

Soy roasted half chicken served with chicken lettuce wraps, vegetable chow mein noodles, vegetable fried rice and Suspiro Limeña dessert to share

$85

Criollo for 2

Lomo Saltado served with Tacu Tacu rice and beans, quinoa salad, salsa criolla and Suspiro Limeña dessert to share

$50

Criollo for 4

Lomo Saltado served with Tacu Tacu rice and beans, quinoa salad, salsa criolla and Suspiro Limeña dessert to share

$100

Vegetarian for 2

A selection of vegetarian dishes to share: chow mein noodles, fried rice, quinoa salad and mushroom lettuce wraps

$50

Vegetarian for 4

A selection of vegetarian dishes to share: chow mein noodles, fried rice, quinoa salad and mushroom lettuce wraps

$90
Donburis
Mushroom Donburi

Wild mushrooms, red onion, soy served over rice

$11

Unagi Donburi

Grilled eel, avocado, fried egg, red onion

$12

Ji Song Donburi

Stir-fry chicken, soy sauce, peanuts, served over rice

$11
Vegetables
Ensalada de Quinoa

Quinoa, choclo, cucumber, potato, fresh cheese, lettuce

$10
Meat
Ají de Gallina

Ají amarillo chicken stew with fresh cheese, pecans, rice

$16

Ji Song Sillao

Stir-fry chicken in soy sauce served with lettuce cups and crispy sweet potato

$12

Lomo Saltado

Beef filet, tomato, soy sauce, ají amarillo peppers, potato, onions

$18
Rice & Noodles
Aeropuerto

Fried rice, egg noodles, crisp sweet potato, seasonal vegetables, soybean sprout, vegetable "airplanes"

$14

Tam Tam

Hand-cut wheat noodles, spicy pork, peanut, ají panca

$12

Tallarin Saltado de Verduras

Chow mein noodles, tomato, scallions, peppers

$12
Seafood
Camarón Saltado Maestro Wong

Shrimp, fermented black bean, wood ear mushroom, spring onion, rice

$21
Desserts
Suspiro Limeña

Sweetened condensed milk custard topped with soft meringue

$8
Beverages
Coke

$3

Coke Zero

$3

Sprite

$3

Inca Kola

$4

Still Bottled Water

$3

Sparkling Bottled Water

$3
GRAB AND GO BEVERAGE MENU
China Chilcano offers a selection of cocktails, wine and beer available for pickup. To purchase alcohol you must be 21 and also select a prepared food item, no minimum required. To place your beverage order, please call 202.783.0941 or use GoTab
Cocktails
Toronja Chilcano Large

grapefruit macerado, lime, Amargo Chuncho bitters, Fever-Tree ginger ale.

$40 (serves 6 )

Toronja Chilcano

grapefruit macerado, lime, Amargo Chuncho bitters, Fever-Tree ginger ale

$15 (serves 2 )

Capitan

sour cherry macerado, vermouth, Amargo Chuncho bitters. Serves 2

$12 (serves 2 )

Oyamel's Classic Margarita - Large

Altos blanco, Combier L'Original, lime. 

$40 (serves 8 )

Oyamel's Classic Margarita

Altos blanco, Combier L'Original, lime. 

$12 (serves 2 )
Beer
Cusqueña

Lager, Lima, Peru

$5
Wines
Cuvée José

Raventós i Blanc, Macabeo, Parellada, 2016

$29

Marfil

Brut Cava, Spain NV

$20

Intipalka

Sauvignon Blanc, Ica Valley, Peru 2018

$20

Martin Berdugo

Tempranillo Rosé, Spain 2018

$20

Viejo del Valle

Pinot Noir, Chile

$20